It is now commonplace for consumers looking to buy a good or service to look up businesses online. When they have identified likely candidates, a good number then proceed to establish the online reputation of the business. This is not just about evaluating the quality of the business site, but seeing what other consumers and experts have to say about it. There are numerous online review sites to be found online including the likes of Yelp!, Google Reviews and Angie's List.
These independent review sites have a very strong impact on the success of business, especially those that offer services such as restaurants, hotels and so on. It has become important in online marketing to be very concerned about online reputation as it can drastically impact the ability to promote the brand. Bad reviews tend to draw a lot of attention and if wittily put, can result in the content being shared virally across multiple social networks.
In order to limit the problems that can result from negative publicity, it is a good idea to have a strategy on how to handle online reputations.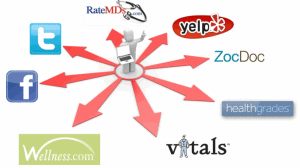 When you know you are running a good business, you need to try and encourage your clients to post reviews for you. A good way to achieve this is to provide links on your website to these review sites, asking visitors to post their ratings. Periodically make similar requests to your followers on social media sites. Highlighting these positive reviews in your marketing and directly thanking the clients may also encourage others to follow suit. Also find out if these sites can allow you to make use of complimentary reviews posted on your site or social media accounts. Some actually permit this re-posting.
Choose relevant review sites
Do not just link to any old review site. Focus on those that you believe will have the most impact on your reputation.  This will likely depend on what kind of business you run and where. For instance hotels in major travel destinations will need positive reviews on TravelAdvisor to attract foreign clientele.
Respond to negative reviews
Even with the most well run businesses there are likely to be a few bad reviews made. Do not ignore them. Demonstrating that you are paying attention to client concerns can help turn opinions around. Respond politely to the complaints lodged and find a way to appease the client. Making this effort will help ensure you are viewed in a more positive light. If you are unable to salve the problem, at least ensure you have documented on the site how you went about trying to fix things. Sometimes not all problems can be resolved.
Monitor your online reputation
Make sure to bookmark review sites that have the biggest impact on your business and ensure that you schedule regular checks to see how your ratings are performing. The timelier you are in responding to reviews, the more positive a reputation you will acquire. This is also a good way to catch out any competitors lodging fake negative reviews to sabotage your business.
Ensure that you never plant your own fake reviews. Some of these sites take this offense very seriously and do penalize businesses severely. These sites can easily catch you by tracking IP addresses and other techniques. Work to boost the number of ratings as many consumers are wary of a few high ratings as compared to thousands more that make up an average result.